Our all-in-one audio, video & lighting system LIVIAU is now available in a fully portable format. The new system has a compact design without compromising connectivity.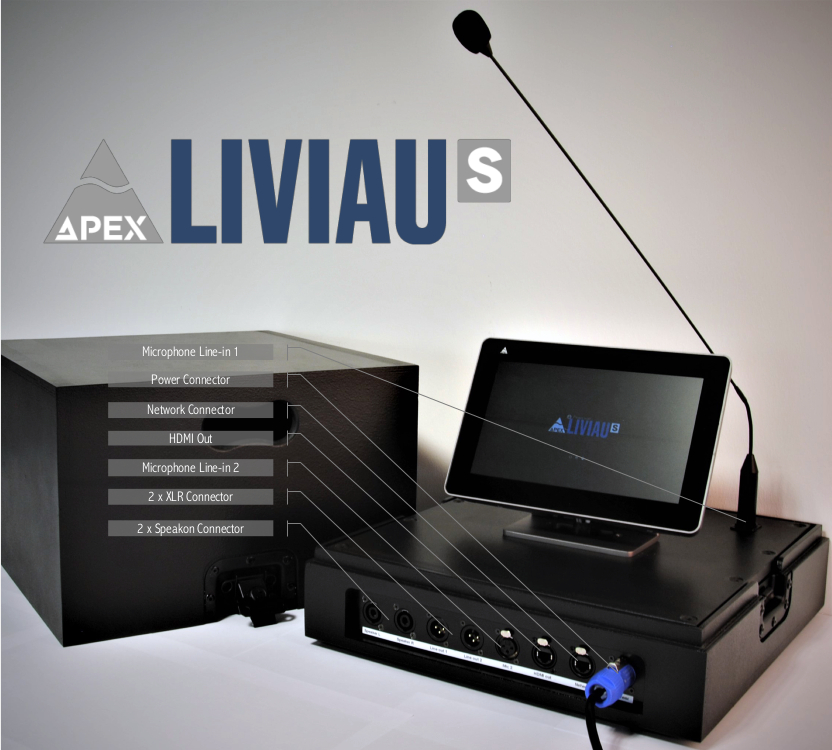 How LIVIAU became mobile
Funeral home Vanhoof in Mol specializes in organizing all formalities associated with funerals and cremations. Their funeral services are often organized at different locations. Be it at their own multifunctional aula or at the local community hall, they require flexibility in their audiovisual set-up. Vanhoof was looking to upgrade their existing system for the extensive audio & video solution that LIVIAU provides. However, as their services are often rendered at multiple locations a fixed setup was not an option. Any new system needed to be easily transportable and intuitive. This is how the portable LIVIAU-series came to be. By making LIVIAU portable, funeral home Vanhoof can now rely on one familiar system that accommodates all their needs.
All the connectivity you need
LIVIAU's mobile set-up includes a dynamic gooseneck microphone. This easy to use microphone features adjustable volume levels to match every situation. Adding an extra microphone becomes simple through the second connection port, which can also be used to connect additional external music sources such as a mobile phone, tablet or pc.
Featuring two speakON connectors LIVIAU enables you to connect a passive speaker set to the internal amplifier. In addition, two XLR connectors are available to connect to your existing audio installation.
The internet connection serves to remotely control your business from anywhere in the world by smartphone, pc or tablet or to remotely drop your media files on LIVIAU's upgradable internal hard disk and schedule them to play at any time.
Do you have the need to connect to a display across the room or maybe a projector even further away? The portable LIVIAU case houses a built-in HDMI extender that makes HDMI connections above 30 meters possible without any loss in signal quality. With this easy set-up, you simply have to connect a display or projector and you are ready to go.